THE HARE KRISHNA SAINT
TORTURED AND POISONED
"TO DEATH"
BY HIS JUDAS DISCIPLES
(Agents of the Sinister Illuminati)

His Divine Grace A.C. Bhaktivedanta Swami Prabhupada, the world-famous saint, cultural ambassador, scholar, social reformer and founder of the International Society for Krishna Consciousness, (I.S.K.CON), warned in a letter dated September 1970 that "the great sinister movement [Illuminati] is within our Society." In 1977 he was held in a small room and slowly tortured and poisoned "to death" by the agents of this sinister movement, as the tape transcriptions in this document conclusively prove.
Srila Prabhupada continued translating his transcendental books up to the point of his death. Although he was personally being disturbed by these demons, still, he was merciful to the general people, who are suffering for want of Krishna consciousness. Even up to the point of death, Srila Prabhupada was trying to preach Krishna consciousness. In fact his only concern was that all the people of this planet should receive the highest perfection of life namely Love of Krishna (God). So Srila Prabhupada truly manifested the symptoms of a Saint on the topmost level of self realization. On one side he was tolerant of his own sufferings and on the other side he was merciful.
After Srila Prabhupada's physical departure these Judas disciples immediately took complete control of I.S.K.CON, it's wealth and resources, which were intended for spreading love of Krishna. Whilst falsely declaring themselves Srila Prabhupada's successors, they and their followers performed countless atrocious acts, including child molestation. Those who stood against them were forced out or even murdered.
This sinister movement masquerading as I.S.K.CON has been threatened to be sued for $400,000,000 by some of their victims, who were subjected to child abuse whilst at schools originally set up by Srila Prabhupada to teach the children the message of pure love of God, as proclaimed in the Vedic scriptures. Evidence used in the court case has been distorted to divert the blame on to Srila Prabhupada both by the criminals (to avoid justice) and by the victims lawyers (to gain the greatest financial rewards)
We have compiled this pamphlet in order to protect Srila Prabhupada's spotless character and to make it clear to the public, that this cult is not the pure Hare Krishna movement founded by him, but rather a group of envious impostors in the dress of devotees. These impostors have completely neglected Srila Prabhupada's guidance on every level, particularly in regards to protecting children.
If you are interested in learning more about these issues and the genuine Hare Krishna movement then you are welcome to contact us
We are fighting to keep the Hare Krishna movement going on with Srila Prabhupada in the centre. We are printing his original transcendental books which are now being changed by the members of this cult, against Srila Prabhupada's order.
Every Sunday we are holding a festival of chanting and dancing and serve out a free sumptuous vegetarian feast. There is also a lecture given by His Divine Grace A.C. Bhaktivedanta Swami Prabhupada on the science of self realisation and Bhakti Yoga, followed by a philosophical discussion. You are welcome to come along with your friends and experience the transcendental festival. HARE KRISHNA !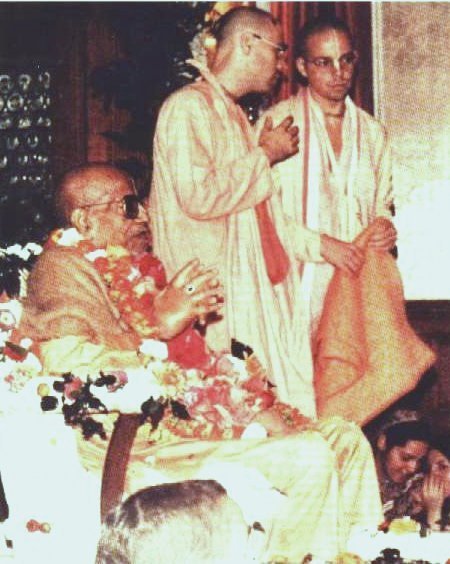 Left: His Divine Grace A. C. Bhaktivedanta Swami Prabhupada. Behind (left) is the chief culprit Tamal Krishna a.k.a. Thomas Hertzhog who worked with other pseudo-Krishna cult leaders to poison Srila Prabhupada to "death".
Note Srila Prabhupada's swollen hands and sun glasses [sensitive to light], the effects of the arsenic poisoning.